71 comments Add a comment
What is really very annoying is the self-righteous and sometimes pitying nature of some of this elderly people in society, particularly towards teenagers and youngsters.
After school, I get a public bus home which normally takes an hour; it's usually quite crowded so I often find myself standing up for most of the journey. I get the bus alone so I usually just listen to my iPod. However I am frequently greeted with frowns and angry faces by the elderly people on the bus.
I'm always polite to elderly people and often let them go past me and sit down. I remember my manners, but they always seem to have the attitude of 'Teenager, she must be a yob, want to steal from me or be rude'. This is something I would never do and it's actually quite upsetting some of the comments I hear.
Earlier this year I was in a car accident. I was in the front seat and I don't want to go into long details, but my leg was partially crushed and my bones shattered. I now walk with a limp even though I'm fourteen and standing for long periods of time (even just ten minutes) is actually quite painful. The bones have not healed and recently I have got an infection from one of the leg wounds which makes it almost impossible to walk or even stand properly.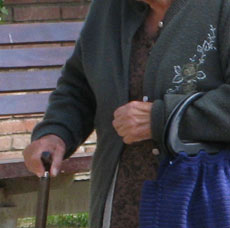 Whenever I can get a seat on the bus I always sit down, I feel awful sometimes leaving an elderly man or something to stand, but I have my own disability too. Just because I am a teenager, that doesn't mean that I don't feel pain in the same way that someone their age can. I quite often get berated for sitting down and on one occasion even grabbed on the shoulder by one of the elderly folk with a 'No respect' or 'How horrible and disobedient to leave someone else standing when you're fine'.
I always try and explain that I have my own disability, but often I am told that I'm just a yob and I must be lying. There was me thinking that a yob was someone who broke windows, stole cars, mugged people and was generally a nuisance. Apparently a schoolgirl in pain who simply wants to rest her foot is now a yob too!
If there was someone in terrible pain or more in need than myself then I would definitely offer up the seat, but please don't discriminate purely on the basis of how old someone looks.
By: Annaliese
Leave a comment