37 comments Add a comment
Typically what happens is this. You owe Acme bank for a loan, credit card or car finance on which you defaulted. You defaulted not because you were feckless but because of a change of circumstances. You lost your job, or got sick or injured. You are a responsible person who likes to pay your debts. So you joined a Debt Management Plan which means that all the spare cash you have got, after essentials, is divided out between your creditors.
The problem with getting into debt is that even when you get back on an even keel, such as finding another job, you have got behind. You have continued to pay into the plan. But now Acme bank has got tired of waiting and has sold on your debt to Dirty Debt Collectors.
The first you know is that you get an aggressive letter from Dirty Debt demanding that you pay the full balance. Now Dirty Debt had bought your debt from Acme (along with thousands of others) for literally pence in the pound. You may have paid back, say £500 out of a £1,500 bank loan, and now think you owe £1,000. Wrong! In many cases Dirty Debt will ignore what you have already paid and try to collect more than what is "owing". This is because they add their own charges on.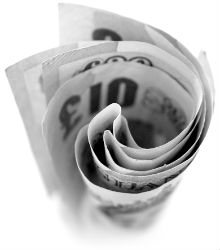 these companies operate, quite literally, on the fringes of the law
Many of these companies operate, quite literally, on the fringes of the law. They buy up debts which are "statute barred" and still try to collect on them. Statute barred means that the debt is more than 6 years old during which the debtor has had no contact with the original client. The debt cannot then be enforced in court. However companies like Dirty Debt do not hesitate to send threatening and aggressive letters attempting to collect on such "old" debts.
Other underhand (and illegal) tricks they will try are trawling the Credit Reference Agencies to find the name and address of anyone who is paying into a Debt Management Plan. They will then send aggressive letters to attempt to collect on debts which the debtor has either paid off or is paying to another company. So it is possible for a hapless debtor to be paying the same debt to more than one company if they don't keep tabs.
Another dirty trick is to send out letters to someone with a similar name living in the same town as a debtor, or someone living at the same address. These companies also send out letters to neighbours or addressed to "the occupier" asking them to phone Rick or Carol. They will then attempt to gain information about whether a debtor is still living at the address or their current whereabouts if they have left.
In reality companies like Dirty Debt have very little power. They cannot come into your home and take your goods, your wages, or make you bankrupt. To do these things they need a court order. If they threaten you with court action you can challenge them to "prove the debt" which means that they have to provide certain documents regulated by the Consumer Credit Act. They will need to produce these documents if they take you to court. The problem is that Dirty Debt and companies like them very seldom have the required documents. They have to return to the original creditor to obtain them. And when the original creditor sold on the debt they often disposed of the original documents.
There are ways to challenge these ripoff merchants. Join the Consumer Action Group and find out how to fight back.
By: elrond
Leave a comment