16 comments Add a comment
I am really cheesed off that eBay has decided to ban the sale of Live 8 tickets. It's plain and simple just another case of the moralistic few trying few trying to impose their will on others. Who is actually being hurt when they are sold? Why all the fuss?
I am really very annoyed about what has happened here. I have no problems with eBay removing items up for auction for reasons of legality, or to protect consumers. This is okay because the law needs to be upheld and it has been done for a good reason.
Is it up to eBay to tell us what is right?
To remove items for moral reasons however, is just wrong in my opinion!&nbsb; Why are they listening to people like Bob Geldof? Is it up to eBay to tell us what is right and wrong now? Bob, get of your soapbox! You did a good job last time round, but we don't OWE you our hearts and minds!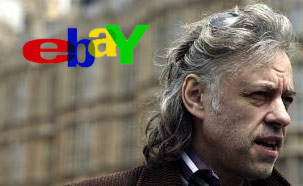 Remember that those people actually spent money sending text messages to get these tickets. They own them now, and as such should be free to do with them what they like, and that includes selling them on eBay.
Live 8 should really have known in the first place that some people would opt to sell their tickets. Naturally, some people are also greedy and will seek to make maximum profit; I guess this is just another facet of human nature and there's not much we can do about that.
Fair play to Sir Bob for having a crack at solving a few world problems again. Personally I think he's a bit misguided and I don't give a damn about this concert myself. I do however, object very strongly to people telling me what I can and can't do with my property. So please, don't try to tell us how to think, and let people sell 'their' property as and when they please!
Leave a comment