20 comments Add a comment
Is it just me? How long do they think local people will stand by and watch as the food aid and relief supplies are piled up so near but so far? Haiti is being touted as the poorest country in the western world, yet still they starve.
We still don't know how many Haitians are affected...
The disastrous earthquake rocked Haiti a week ago and we still don't know how many Haitians are affected as they are concentrating on Port-Au-Prince. However the outlying towns were also affected so the real picture will probably only be visible much later. As far as the actual relief is concerned the Americans have arrived and taken over, but it's looking like Katrina all over again but to my mind remarkably worse.
Meanwhile the media and all that goes with it have turned up to show us the devastation that the people of Haiti have been put through with this natural occurrence. However, they cannot start to distribute the water, the food aid and medication that the people need quickly enough. WHY is this the case? When that tsunami struck a few years ago I don't recall this much confusion and chaos?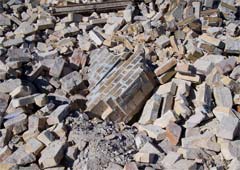 Let us not forget that we now have the DEC (Disasters Emergency Committee) and what their purpose is just eludes me completely; they're sitting their with their fancy planning, grand titles and so on, yet on the ground it seems that very little is being achieved and every day there is something new to report.
If they need more help why don't they speak to the local leaders? At this rate there will be more disaster as the locals turn on the foreigners and then each other. Perhaps they should recall the lyrics from Bob Marley's "Dem belly full but dem hungry, a hungry mob is a angry mob"
By: whatsthepoint
Leave a comment