58 comments Add a comment
First off, I'd like to say that I know that in general they do a good job. I have frequently given time and money to charities in the past myself and I still think that they are a worthwhile cause.
However, my gripe with charities has been triggered by recently having to run the gauntlet several times at a London tube station, as well as a round of recent visits from the charity workers who call on your doorstep. The tin shakers at the entrance to the tube usually aren't a problem and I have in the past been more than willing to throw some change into the tin and carry on with my journey.
I think that their fundraising methods however, have become a bit more aggressive in recent times. Although, maybe that is too strong a word, perhaps it would be more correct to say that they have taken the initiative to be more 'interactive' with the general public.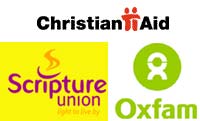 Anyway, when you use public transport as often as I do, it gets very irritating when you are repeatedly stopped, often by the same person and asked if you "can you spare some time" for whatever charity. Sometimes more than one charity can be found "manning the gates", and it feels to me like they are trying to push the public conscience a just little too hard!
Another aspect of charity fundraising that I find annoying are collectors that turn up on your doorstep, even though you declined to support their cause the month before. For example, that Christian Aid guy the other evening that came knocking on my door. I sent him away last month but he came back this week so I told him the envelope had probably been thrown away with the recycling. End of story, but no, he asked me if I wanted another one. I should think I would have asked for one if I wanted one. The say charity begins at home, but do they want to move in now as well?
Leave a comment