43 comments Add a comment
In June last year I did a skydive to raise money for a charity. I particularly wanted to raise money for Macmillan Cancer Relief but unfortunately they do not support extreme sports, their insurance doesn't cover that. So I decided to do it off my own back.
I phoned up my local parachute centre at Weston on the Green to request information on the courses they do. I decided I would do the solo skydive as it was more daring than a tandem. I also decided that I was going to pay for it myself, as it was something I had always wanted to do anyway. That way at least all of the money I raised would go to my chosen charity.
Don't fool people into thinking that their kind sponsorships are going to charity.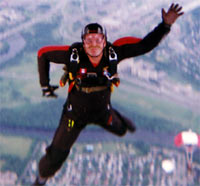 As I was walking out of my local sports centre the other day, I noticed a poster about doing a charity skydive for Mencap. I thought that I'd love to do it again but go one better and do an Advanced Free Fall course. And even better, I could raise money for a charity whilst doing it, so I had a look at their website.

However, I was horrified to discover that you need to raise a minimum of £530 and which only around £140 will actually go to the charity because they take the cost of the course and booking fee out of the money raised. I have to say that I didn't actually find this information on their website. I just did a search under Google for charity skydive's to find out.

I think that this is terrible, as people have sponsored you thinking that their money is actually going to charity when most of it actually isn't but is going towards the individual have a few minutes of thrills.

If you really want to do a skydive and want to raise money for charity, pay for it yourself. Don't fool people into thinking that their kind sponsorships are going to charity.



Leave a comment