26 comments Add a comment
I have a Dell Latitude D600 laptop and recently it began to smoke (no, not twenty a day... an electrical problem!). So I duly decided to replace the motherboard and found a suitable candidate on eBay. Well all good things come from eBay don't they? I was lucky enough to spot a Dell D600 laptop for spares or repair, no screen, no hard drive or memory, just a motherboard and the plastics. Well buying things in this way can be quite risky, but at 0.99p purchase price and 15 delivery I thought I'd scored a bargain (as long as it works that is).
Well there's the thing. The Dell D600 laptop base I' bought worked okay, but unfortunately was protected by a Bios password. For those who don't know, unlike desktop computers you can't reset a laptop bios by removing the CMOS battery as the password is held on an eprom. So no quick fix. A brief chat to Dell tech support quoting my service tag enlightened me to the fact that I'd need to prove ownership before they could help me reset the master password; name, address or even a postcode would have been sufficient. The seller of course could not provide me with any of this information and in fact his English was so poor email communication was quite torturous.
As it happens, I discovered various tools on the Internet that may be used regenerate bios passwords in the event that they are forgotten. Unfortunately, however, my Dell D600 has a service tag that ends in the dreaded 595B which is more or less the kiss of death as far as getting into the bios myself is concerned. I haven't yet tried the Dell Service Tools (DST) which supposedly allow the service tag to be erased/changed (presumably to use one for which I have a password - See Google). From various forums I have visited though, I gather that they don't always work and it's questionable as to whether or not it will help me get passed the dreaded white screen with "this computer system is protected by a password authentication system".
What options are open to me now then? I've read, again on various forums, that the Dell laptops with a 595B service tag can have the Bios passwords reset via a small procedure involving a paper clip. It involves stripping the laptop down to the motherboard and locating the eprom then shorting out a couple of pins for a short while. A risky procedure I hasten to add and one I will only take as a last resort.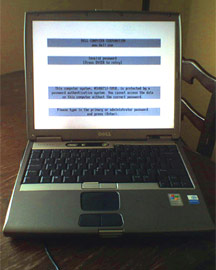 So what's the focus of this gripe? I guess it's Dell really and the way the whole service tag/ownership thing works. I can understand the reasoning behind it but the system is so inflexible it truly beggars belief. Stolen laptops are an issue, but at the same time there is a lot of buying and selling that goes on quite legitimately, and in some cases details of original ownership may not be transferred.
Not everyone is diligent enough to ensure that Dell is kept up to date with names and addresses and the person buying the laptop may not know they need to tell Dell they've bought a laptop from you and give them your name and address.
Of course when they then sell that same laptop a few years down the line and don't have your details the next person definitely not have any proof of ownership. The whole thing kind of reminds me of vehicle logbooks and the DVLA, but it doesn't work well for laptops because people don't see them in that way.
What's the solution? Well there isn't one at the moment, at least not for me. I've bought myself a nice little doorstop. The guy offered to refund me (at least I think that's what he meant), but it would cost to send it back so probably not worthwhile. The moral of this story is: Don't buy a Dell laptop (I could just leave it at that) on eBay without first checking that the person has proof of ownership or that the laptop is working and doesn't require a password. Incidentally, once you've got your laptop you can apparently transfer ownership online. However, as I mentioned before, it just takes one person in the chain to forget to do that and the connection to the service tag and Dell support is forever broken.
Leave a comment