68 comments Add a comment
My gripe is about the AOL helpline and how patronising and inflexible they are. I am a freelance computer engineer for home users by the way.
With other Internet service providers, when I speak to them on behalf of the customer, they get the message straight away that I know what I am talking about and they don't ask stupid questions. Alas this is not the case with AOL. I have to go through the whole rigmarole as if I don't know anything. For example, take the following conversation:
Me: Hi, I am an engineer speaking on behalf of the customer who is with me now. The customer has called me out to have a look at this problem. There is no broadband connection. We are using a router and there is no ADSL synchronisation because there's something wrong at the telephone exchange, please get BT to fix it.
AOL Helpline: Is the "i" light on the router flashing?
Me: Yes. The problem is being caused by the BT telephone exchange, so can you please report this as a fault to British Telecom.
AOL Helpline: What colour is it flashing?
Me: It is flashing amber and I know what that means, I have checked everything and there is a fault at the exchange.
AOL Helpline: Are you sure it's flashing?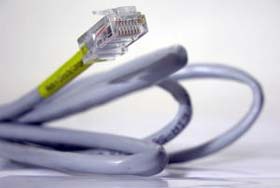 With other ISPs, it's okay that they ask me questions about whether I put the bits and pieces in the right places. That's all right, because it's a helpful reminder. However the AOL helpline insists on taking me through baby steps all the way and it is quite infuriating.
Eventually it is possible to get through to the mythical AOL Second Level Support where there are people that start being properly helpful, hurrah!
As for AOL "Live Help", the AOL Live Help text chat operators have less authority and fewer tools than the helpline people. Anything non-trivial they just have to direct back to the helpline, whereupon there is the recorded message, "If you can get online, why not try AOL keyword: Live Help?"
AOL only helps with a few specific makes and models of connection equipment and everything else is "unsupported". So I have to carry a Netgear DG834 as it is one of the few routers that AOL will help with, even though any make and model is capable of working fine with AOL when set up correctly.
With AOL it is at least possible to get through to the helpline and to get broadband problems fixed. It's just that they ask a lot of basic questions and it all takes longer that I would like.
By: Phil
Broadband Resources
Free Laptop
At Broadband Expert we research, test and compare broadband and mobile broadband packages to help consumers find the best broadband packages for their needs.
Leave a comment