38 comments Add a comment
As we are all very much aware, the United Kingdom has been having its fair share of bad weather this week. Psychology studies may show that anti social behaviour occurs less during the winter months than in the summer, but what they have failed to look into is an issue which affects most of us: children and teenagers throwing snowballs.
Now, I'm not talking about kids throwing snowballs for fun, I'm talking about the older ones throwing icy snowballs at other people's houses, public transport and at passers by in public places to cause trouble. Something needs to be done about this anti-social behaviour.
There is nothing more worse than living next to a 'hot spot' area such as a public park or bus stop where this type of behaviour is just waiting to happen, and what can we do about it? Absolutely nothing!
They are always well-hidden either by obstacles or under their heavy winter clothing, and they are always too quick on their feet to catch. The police won't do anything about it - throwing a snowball is hardly a crime in comparison to that of a brick being launched through your window, and we cannot take photographs or videos of the incident because this is against the law.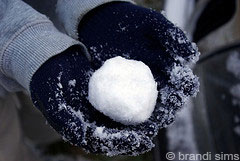 So what are we supposed to do? Are we supposed to just sit back and let this behaviour continue until the point where bricks are being launched at us, or should we be making complaints and phone calls to the local schools and public transport operators? Don't count on it, nothing will be done. So, just whose responsibility is it exactly to make sure that these children and teenagers stop using snowballs as a weapon? Did their parents teach them that doing this kind of thing is okay?
Of course, shouting from your window or chasing them down the street always works as this will remind them to bring a sledge full of snowballs next time and maybe even some tough cronies because they'll know what to expect.
Leave a comment