19 comments Add a comment
I have recently been parking my car on a side street near work as there aren't any spaces in the office car park. The street in question is St Peters Way, near Timothy's Bridge Road, Stratford Upon Avon. There are quite a few offices in the area and parking is often very limited. Although there is a Park and Ride not too far away, there are also a fair number of side roads with no obvious parking restrictions.
threatened to report anyone who continued to park in the street to their employer
I arrived back at my car yesterday after work to find a sheet of A4 paper folded underneath my windscreen wiper and upon opening it up found a rather snotty letter written by one of the residents. I also noticed the same letter posted on the windscreens of several other cars parked nearby. I found the general tone of the letter quite intimidating and in the last paragraph they even threatened to report anyone who continued to park in the street to their employer who would then take disciplinary action (which they had apparently agreed with the residents they would do in such cases).
I can't actually see a good reason why these residents (or this one) would object people parking where they do other than them simply being territorial and perhaps a bit snobbish. My car (and the others) were not parked outside someone's house, they were parked on the opposite side of the road. All these houses have their own courtyards with parking anyway and no one was being inconvenienced or blocked in.
No road markings or double yellow lines... no signs prohibiting parking
There are no road markings or double yellow lines. and there are no signs prohibiting parking or limiting it to residents only. There is no reason at all why someone can't legally park on this side road and the feeble excuse about 'access for emergency vehicles' is just that, because there is plenty of room on the road. Perhaps it's because I drive a scruffy old VW Polo and it's lowering the house prices in the area - who knows!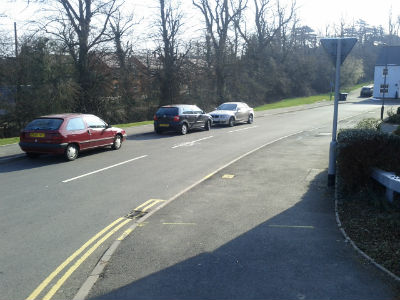 Why do some people have to behave this way? I could understand if the cars were parked outside a house or blocking someone in, but to react in this way is just petty. I found the letter quite distasteful would have thought that a polite request would be a much better approach. Resorting to threatening people is pretty low really and I suspect the person who wrote the letter may be nothing more than a busy-body who likes to wield a bit of power and has nothing better to do with their day.
For now though I'll park somewhere else because these small minded people are just the type to take the law into their own hands and start causing damage to vehicles parked on what they see as their own personal territory.
By: Fed up office worker
Leave a comment