107 comments Add a comment
In November I stopped at a Kentucky Fried Chicken (yes, I was desperate for a fast food fix after a long drive), and ordered a meal for two people, which came to not far short of £10, a Coke for my friend, and a glass of tap water for myself as I don't drink bottled or carbonated drinks unless there is no alternative.
Tap water refused on grounds of 'Health and Safety'
I was refused water on the grounds that 'Health and Safety' regulations meant they were not allowed to serve it. Sheltering behind this pathetic and untrue type of excuse makes me see red, so I asked exactly what section of H & S states that tap water may not be served to customers and if I could see the instruction in writing. He then backed down and said he thought it might be KFC's own regulation. He then added : "Anyway I wouldn't drink the tap water here", which is quite beside the point.
After some discussion during which other customers said this was absurd, one even saying he'd been served water there the week before (so some people actually go back!), the assistant offered to buy me a bottled drink. Again I said I did not want a bottled drink, I wanted tap water.
On principle, we left without taking or paying for what we'd ordered.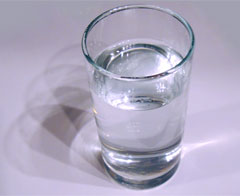 I ran a full service restaurant and a small hotel, in another country admittedly, so I am not without experience in the hospitality industry, and I know that by law we were obliged to serve tap water to anyone requesting it, even if they were not buying anything from us. I believe a similar law exists in many countries, I don't know about UK.
I was so incensed that I wrote to KFC Head Office, as below, to complain about what seems to me just another way of extorting money from the public. As of today, three months later, I have not yet had the courtesy of a reply from them.
"Could you please refer me to the section of Health and Safety Regulations which, according to staff of two of your branches in Swindon where I requested this, prevents you from serving tap water to customers.
I have never before, in any establishment serving food to the public in the UK, been advised that there is such a condition. On the contrary, I understand that in terms of the Supply of Goods & Services Act restaurants have an obligation to supply water along with a meal.
I would be most interested to receive your response, and am also taking this up with the appropriate authorities. In the absence of a satisfactory explanation, I must assume that either your staff are misinformed, or that this is a way of extorting money from the public for expensive and environmentally unfriendly bottled drinks."
By: MikeP
Leave a comment