3 comments Add a comment
Recently my elderly mum sat down to enjoy a locally (Bolton made) pasty. I gather I am not allowed to name the small family firm involved on this site and need to respect it's terms.
A sizeable piece of hard black plastic was discovered inside the meat and potato pasty and was very nearly swallowed, with obvious consequences. Any toddler swallowing this foreign body would have choked to death for sure.
contacted the firm - never heard from them again
As a former local government policy officer, I drew upon my background and knowledge and chose to call the local Council to have the serious incident recorded. I was fobbed off with ineptitude and indifference. Having no remaining alternative (not on Facebook etc) I contacted the firm who came and took away the evidence but failed to honour the commitments made - I never heard from them again. What a surprise!
I gather a business expansion is planned by this firm (distribution of these Bolton pasty by post). I suggest every other part of the country exercises the greatest care in ordering any pasty from a Bolton supplier by post until I have received the promised assurances that the useless sensor detectors on the pasty production line have been rectified.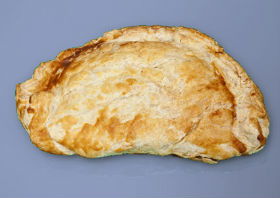 I have, today, received a reply from my MP to my substantial written complaint about the lax regulations that appear to cover food safety matters. I have been assured that the government minister responsible for consumer affairs will be dealing with this serious shortcoming. Mr Vince Cable are you listening? Useless Councils like Bolton MBC and despicably irresponsible small food producers should be brought to account surely? Does it take a death to trigger reform?
I only wish I could name the firm involved. Supremely confident motoring journalist Jeremy Clarkson would surely not have shown the level of politeness I showed to the firms rep at the house. But that's just where I went wrong - being 'over nice' is seen as a weakness to be exploited by others. I should have been 'Mr Angry.' But the disgrace here is surely that of others - lazy Council staff and a devious and unprincipled private sector business that betrayed the trust I showed.
Leave a comment