19 comments Add a comment
When nature calls you've got to go and there's no two ways about it. Its one of the basic facts of life that a person needs to evacuate their bowels or urinate at least once a day, so I find it quite despicable when someone or some company tries to turn a quick profit whilst servicing this most basic human need.
Whilst on a bus journey from Blackpool to Birmingham recently the bus stopped at Manchester for 20 minutes. So I thought this would be an ideal time to stretch my legs and use the services at the same time. I really didn't like the idea of using the on board toilets as they're usually rather smelly and very cramped.
Also I didn't fancy the idea of trying to hover over the toilet seat whilst on the move and risk urinating down my leg! If you've ever used a loo on a moving vehicle you'll know exactly what I'm talking about.
Surely it's every man and woman's right to have freely accessible toilet facilities?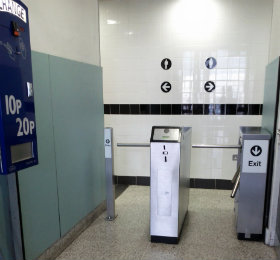 I eventually found the lavatory signs and proceeded towards them only to be greeted by barriers and a change machine. I could not believe my eyes, you had to pay the princely sum of 30p just to take a leak! Surely it's every man and woman's right to have freely accessible toilet facilities in a bus station especially as most people will have forked out for bus tickets? Well on principal I did not use the services, besides I only actually had 25p in change and there was no way I was going to break up a 10 note. I ended up having to hover over the toilet seat back on the bus.
To be fair they weren't quite as bad as I had expected. I thought we were on a straight road when I went in, but as we turned a corner I got thrown around a bit. If I had been a man trying to do this standing up I would have been all over the place. Perhaps that explains the wet toilet roll, either that or someone had dunked it in the sink getting half of it wet.
Perhaps if you can present a bus ticket at these services you should be allowed to use their toilet free of charge, or alternatively go to the customer services desk, show them your ticket and they'll give you a token for the toilet.
By: JenWren
Leave a comment