76 comments Add a comment
It's something I really detest and there is absolutely no need for it. Everyone on the planet must have used a public toilet at some point in their life. Why is it some people though, feel the need to urinate (have a pee) all over the toilet seat? I guess I'm very specifically talking about men here because I would imagine that women would find it quite difficult to make that mess since they don't pee standing up. Correct me if I'm wrong though, it's just I don't spend time in the ladies toilet these days.
I've been to all manner of different public toilets from motorway service stations and train stations to pubs and nightclubs. You can be pretty certain that half of them will have a cubicle containing a yellow stained dripping bum seat at some point. Absolutely disgusting, and from experience I'd say the pubs and clubs have the worst, especially the closer you get to closing time. Some men (ok, some women too!) after a few beers just plain loose the ability to pee straight. The floor usually gets this treatment as well so you end up standing in a stinking puddle too scared to move or touch anything.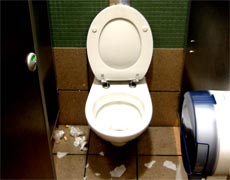 ... send them back to potty training school!
Some public conveniences have sanitary wipes or tissue seat covers. Very good idea in my opinion, although sometimes it's so bad it might be a lost cause. How many of you have carefully placed a neat ring of tissue around the seat before lowering your derriere? It's no wonder that people hover above the seat or place lot's of loo roll around it so they don't have to touch it.
Bottom line, peeing on a public toilet seat should be made a criminal offence and a fitting punishment for these chaps would be to send them back to potty training school!
Leave a comment