30 comments Add a comment
Yes, I know that things have improved since the 1960s when you had to go to the loo and there was a big hole in the floor and you could see the railway track wizzing by underneath but still... I'm not keen on those train toilets with the sliding doors. It's all very well that they're roomy enough to accommodate a wheelchair and have all the mod cons (soap and hot water?), but they're not exactly user friendly are they?
To begin with, you get inside and push the button to close the door. And then there's another button to lock it. This is quite confusing if you're used to the old toilet doors that you would lock in the normal way. Half the time, people forget the 'lock' button and then are surprised when the door opens agonisingly slowly and you are in full view of the general public - not very dignified!
Also, what's going on with the toilet paper? If you are lucky to find any and it's not in a soggy pile on the toilet floor, it's all stuffed into a tiny box and you almost lose your fingers trying to prise any paper out. Then more stress when you realise the flush button is BEHIND the toilet seat. What a rubbish design!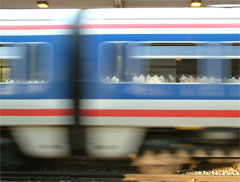 Who wants to actually touch the toilet seat, which is quite often disgusting in the first place and requires several layers of tissue before it can be approached safely?
Trying to get out of these toilets discreetly...
The best bit of course is trying to get out of these toilets discreetly. While the train is moving and you're swaying drunkenly around the bathroom, you eventually spot the button that will open the door. Don't you just miss old fashioned door handles, even if they are covered in germs? Again, there's the s-l-o-w opening of the door, and a group of people staring at you as you shift your bag on your shoulder and pretend you're not actually coming out of a loo.
Travelling by train - nothing like it!
By: Nicky B
Leave a comment