42 comments Add a comment
Who in their right mind would want to buy a TV licence to watch BBC1 online. It's not exactly value for money these days is it and there are far too many repeats with only a few good programmes. What is the TV licence fee these days anyway - must be around £15 a month? I don't know obviously because I don't have one and I don't own a TV. "Don't forget - to watch TV online as it is being broadcast, you still need a TV Licence." That's the message displayed on the BBC1 home page. Well don't worry about that folks, because just as I can't be bothered to buy a TV to watch The Beeb on a goggle box, I also can't be bothered to "tune in" online either.
You still need a TV licence to watch BBC1 online!
Now get this, according to TV licensing watching TV online streamed over the Internet is as good as watching a live broadcast, hence they DEMAND that you buy a TV licence just as you would have to to watch a television. Well my gripe is quite simple. It's NOT as good as watching a television and although it's definitely watchable, the image quality and frame rate are in no way comparable.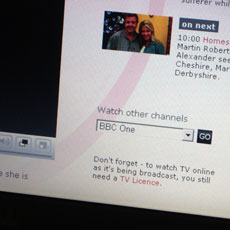 The broadcast is also significantly delayed enough in my opinion to not be classed as LIVE television. Add to this the fact that not all programmes are available for legal reasons and you've got a pretty much second rate service there so how can they justify the requirement of a TV licence to watch BBC1 online? I think that's a bit cheeky.
I know most people have a TV licence (if you believe the statistics), but I just think that it's a bit petty of The Beeb to demand a TV licence be bought to view their online content. What's the next step - a PC tax? Besides, how can they possibly enforce this and how will they know that you're illegally watching television on your PC? You don't need a TV tuner card for this and you can easily clear your browsing history. I'm curious to know what people think about this. Does anyone care? Is this watching TV online the beginning of the end of the somewhat outdated television licence?
By: Not watching the BBC
Leave a comment