16 comments Add a comment
With ever increasing broadband speeds (for some) and an even more tech savvy public who want to watch specific TV programmes when THEY want to, IPTV or Internet Protocol TV is pretty much inevitable.
The trouble is, here in the UK we have such things as the Television licence and the 2003 Communications act to regulate the broadcasters and skim some cash off the viewing public. Now with things as they are, you don't need a television licence to watch programmes broadcast over IPTV. Programming at the moment is scarce, limited only to a few ISP's and cable companies who are willing to try out the new technology. Apparently BT have announced they will be introducing a new IPTV service for broadband customers later this year called "catch-up" that allows viewers to watch programmes that they missed either free or for a small flexible subscription. It will be interesting to see how that pans out, but I suspect that television shows broadcast over the internet in some form will become very popular over the next few years. It will be more convenient, because you can watch what you want, when you want and as the Internet is a two-way medium, it means that there is great potential for interactive entertainment. At present there are already hundreds of thousands of pirated TV shows and movies available for download. It's a potentially exciting future for television; however there is one little problem, and that is the 'PC tax'
The PC tax could eventually replace the TV Licence according to The Department for Culture, Media and Sport. According to one Tessa Jowel, the current traditional licence is sufficient to fund the BBC through until 2007, but beyond that "we may have to take account of the rapid advance in technology and media consumption". According to a recent green paper, there could be a compulsory levy on all households that own a PC either replacing or alongside the existing television licence.
Well so much for the brave new world of IPTV then. Personally I can see any future PC tax being as popular as Thatcher's poll tax and probably just as enforceable. For example, how do you know who has a PC and who doesn't?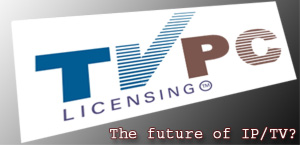 Not everybody buys from a store. Many people build their own PC's. Is there likely to be some sort of census to find out who currently owns a PC or will the ISP's provide that information. Also, just as not everyone (myself included) has a TV, not everyone in the country has an Internet connection and there will always be a percentage of people who use the Internet at home for purposes other than entertainment.
Basically the whole idea of a PC tax is seriously flawed and I predict that it won't even get off the ground. However, as with a great many things, 'we' - the public have to vote with our feet, voice our opinion and keep the politicians in line. We've got to make them understand its not workable and we don't want it.
Leave a comment