159 comments Add a comment
GP receptionists, I really can't stand them. They're all old, power-hungry female battle-axes that seem to delight in being over bureaucratic, inefficient power mongers. For example:
(1) Two years ago I developed hypothyroidism (under active thyroid gland) a chronic condition requiring lifelong medication. The symptoms are forgetfulness, tiredness and profuse sweating that disappear once your TSH levels are in the normal range. When I went to pick up my first prescription I got treated appallingly. I felt tired, frustrated, soaked in sweat and, unfortunately, lost my temper with the receptionist when she hadn't processed my prescription. But did she understand? Did she heck. I just got banned from the surgery and forced to change doctors. Their excuse? A zero tolerance policy for 'abusing' staff. I wouldn't have minded if I had threatening or assaulted this receptionist but this incident wasn't even close!
It was unprofessional beyond belief...
(2) A blood test at a health centre. In reception the battle-axe that booked me in, after ignoring me on arrival whilst continuing to chat to her friend, treated me, and other patients to 10 minutes of lively 'entertainment' listening to her on the phone, shrieking and guffawing at the top of her voice with laughter. It was unprofessional beyond belief and all patients (one holding her head in pain) just gave each other disapproving glances.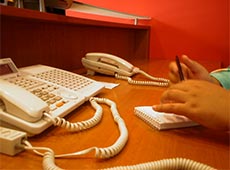 (3) My new surgery booked me for a blood test by phone. Arrived on the due date and was told to wait in the blood test reception. I did - for an hour. When the nurse never called me in I returned to main reception and the same receptionist dismissively told me that they don't do blood tests on Tuesdays. I told them I had got my dates right, but she didn't believe me. No apology, no explanation about why she'd checked her computer, saw my name and told me to wait in the first place. Just a surly PC attitude that suggested that I'd put her out for daring to question her on her incompetence.
So, there you go - GP receptionists, I detest them.
By: Pat
Leave a comment