15 comments Add a comment
I've been a wheelchair user for the last year or so and I'm frankly horrified at the lack of access to basic things that I used to enjoy when I could walk. The ignomany of my chair being carried into pubs etc doesn't exactly make me want to go out. Most places DON'T even have toilet facilities I can use, even the newly refurbished places that are supposed to have them by law.
The DDA (Disability Discrimination Act) is about as much use as a chocolate teapot. If I feel that my lack of access to these places contravenes the act, then I have to sue personally, which is not only very expensive, but there are so many loop holes that it's not worth the time. If a shop or company has fewer than, I think it's 10, employees, then they don't even have to comply.
I've tried bringing these things to the notice of the shops, supermarkets and other amenities and basically get one of two answers: Either, I'll do what I can (pat me metaphorically on the head) and never do a damned thing, or, worse of all, say that they DO comply when they clearly don't.
I feel my environment disables me...
I suggest that all managers, directors, etc spend an entire 24 hours in a wheelchair and see how awful their services are to disabled people.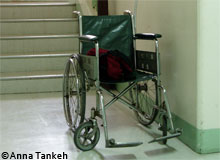 I don't consider myself disabled as such, I feel my environment disables me, and no amount of suggesting, shouting or threats makes them see anything differently.
I'm not the chair, I have a brain and just because my legs don't work, doesn't mean I have to be treated like a 2 year old. Tesco is actually one of the worst offenders in my opinion. Their new trolleys for wheelchairs are damned dangerous, and even though we pointed this out to the store manager, and proved it by getting him to use the equipment, they STILL refuse to do anything about it. I know boycott them. They say every little helps, and I always add, UNLESS YOU'RE DISABLED.
By: Wolfie
Leave a comment