29 comments Add a comment
I have just started a course as a mature student. To assist me I have a note taker and communication support worker, so people will often see them with me in class and are put off, almost afraid of approaching me.
Its driving me mad. Shall I sit there not knowing what I am doing with no support in class and pretend Im like everyone else and pretend I am not deaf? Surely it makes more sense to follow the work effectively with support? It doesnt mean I am not approachable though.
Okay, thats one issue, but there are people who go to the opposite extreme. They approach you and then talk really slowly stretching the mouth making it more difficult to lip read, either that or they will shout - distorting their lip patterns, again this makes it difficult to lip read. Im deaf you know, not stupid so just talk normally or just a little bit slower. Although you are left feeling like you want to punch them for their ignorance, they are at least trying to communicate.
I just wish people were more deaf aware. Hearings aids do NOT restore perfect hearing, they simply amplify everything, which is a real pain in noisy places.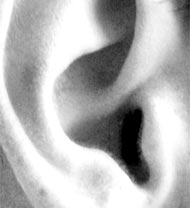 Deaf people can enjoy music and its OK to touch me to get my attention. Screaming at me from behind does not work!
Deaf people can speak. You try just try stopping me and while were at it most deaf can sign too. I didnt till recently though.
Write things down if I dont get it first time, or just try to re-phrase what you are saying, but dont repeat what you are saying again and again. Its embarrassing having someone shouting the same word at you.
Please dont get embarrassed if I dont understand you straight away. I am the one who is deaf, not you!
OK, so a quick lesson in deaf awareness over, although to be honest I could go on about various issues faced by deaf people.
For example, the doctors surgeries that call your name by tannoy when you specifically asked receptionist to let you know in person, schools and companies that persistently phone my mobile when I have asked that they txt me, Audiology departments that should know better sending appointments which say If you cant attend, phone us (what about a minicom or email?) and finally rude people who think its funny and clever saying What? What? to me!
Right feel better now - till the next time
By: Flower
Leave a comment