9 comments Add a comment
ti-social behaviour from other passengers on our trains.
Recently, due to the relocation of my employers, I have gone from having the luxury of walking to and from work, enjoying the exercise and fresh air, to having to commute daily on the train, oh joy! However, I am fortunate enough not to be one of the unlucky commuters who have to endure being crammed into the carriages like Sardines and I more or less manage to get a seat on each of my journeys, the over crowded, over priced commuter trains, even though it's a big issue, is not, at present, my gripe.
My Gripe are other passengers and just how selfish and rude some people can be, my first gripe are the ones who feel they have to make themselves at home by unceremoniously placing their mucky feet up onto the seats. Not only is this rude but seats are for bums not feet and there is nothing worse than arriving to and from work to find that your clothes are filthy or ruined from picking up by the dirty residue left over from the ignoramuses feet.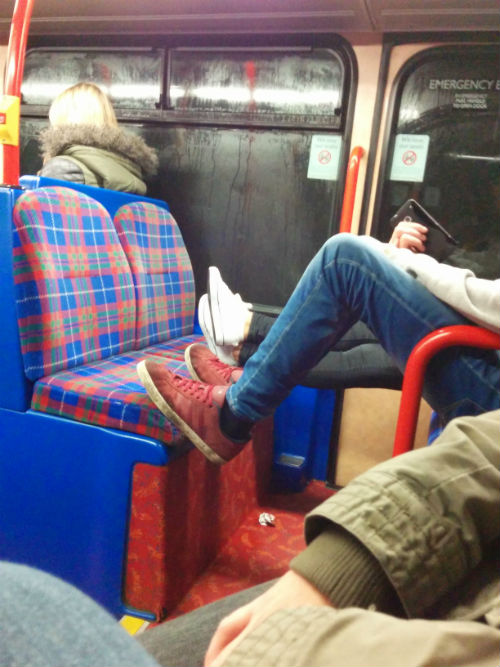 My second gripe are the passengers who feel as though it's necessary to spread out whether it will be their laptops, briefcases or other working parafanalia, or the shopaholics that think that the new pair of shoes they have just bought are more entitled to the seat than the person who has paid for a ticket. You politely ask the passenger to move (although quite frankly you shouldn't have to) and you get looked at as if you just sprouted a second head and then proceed to huff and puff in annoyance at having to make room? In some cases an altercation may occur by the ignoramus shrugging ones shoulders and saying where can I put my belongings, which, a, isn't my problem and b, Isn't that what overhead holds are for? To add salt to the wounds these perpetrators tend to sit on the seats nearest the aisles leaving the window seat empty leaving room for them to spread out and unable for other passengers to use the empty seat, after all on a busy train you should not have to ask to use any empty Seats.
My next gripe refers to the old saying "Age Before Beauty", as my mum used to say to my sister and me as we were ordered to stand up on any form public transport for anyone who was older than us, which at that age wasn't difficult. These days all you get is young kids or families with their feet on the seats clogging up the seats with there luggage and no respect for anyone else. Even now as someone who has just had a big birthday I will still stand up for someone who needs the seat more than me, when in reality the younger members of our society should be beating me to it.
Finally, and please don't get me started on the passengers who are unable to make it from A to B without a cheap can of some form of alcohol in their hands, and hideously drunk, need I say more on these undesirables.
Thank You for reading, please comment
By: Lancashire Lass
Leave a comment