25 comments Add a comment
One Sunday in March this year I had the misfortune to endure the train trip from Hell. I'm 50 years old. I have spinal canal stenosis in my cervical and lumber regions of my spine, an arthritic right hip, Asthma, Angina and Im also in the early stages of possible Emphysema. I am currently on the NHS waiting list for hip replacement surgery at The Kent and Sussex Hospital in Tunbridge Wells, and MRI scans at Haywards Heath Hospital to see if they can carry out surgery to relieve pressure on my spinal cord. Im pretty much in constant pain as I'm sure you can imagine.
I had been to my native Black Country hometown of Tipton for an old schoolmates 50th birthday party and had caught the 08.59 train from Tipton to Birmingham New Street Station. I was hoping to catch the 10.00 train from there to London Euston.
As the train approached the platform at New Street, along with my fellow passengers I was "shepherded" down the platform away from the first class carriages, by some grouchy jobsworth sort of person with the Catherine Tate Laurens character "I AINT BOVVERED" sort of attitude.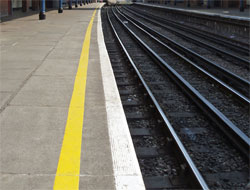 Given that I was using my walking stick and carrying what was for me a heavy bag on my shoulder, I made my way, limping along the platform to the rear of the train. When I got there, it appeared that all the seats in the carriage were taken, so I started to limp back towards the middle of the train to see if I could spot a seat there, or to pay the 15 to upgrade to First Class (reduced by a third as I have a Disabled Person's Railcard). The guard blew his whistle at that moment and the train doors closed as I was trying to get on. The train pulled out of the station and I was left just standing there!
To say I was angered is a slight understatement! I expressed my disgust with the stroppy "girl" only to be told "There were seats right at the rear of the train..." I eventually got home to Tunbridge Wells some 6 hours after I left Tipton.
By: David Webb
Leave a comment