47 comments Add a comment
After the mildly offensive act in which Russell Brand and Jonathan Ross sent mildly offensive messages on the answer phone of the mildly offended Andrew Sachs (who, in the end, wasn't too upset anyway), all the middle aged sad gits of the world overreacted, got on their moral soapboxes and started complaining about TV being too rude and how decency and respectability had been lost. After this ended up on the news several times (apparently this was much more important than all the wars and murders that were happening at that time) and the duo got undeservedly punished for doing nothing much wrong, I thought this absurd incident was all over.
Now that Ross is back on the air though, this issue has resurfaced with lots of discussion, articles and programmes about the issue. Fairly recently there was an episode of "Tonight with Trevor MacDonald" (or not Trevor MacDonald for this specific episode) titled "Is TV Too Rude?" in which a bunch of people were invited to watch certain TV clips, voice their opinion on the clip and then vote on whether it should have been broadcast. By far the most vocal person there (I don't know his name so let's call him Richard) was strongly against every TV clip that was shown and didn't want them to be broadcast. One thing he said which stood out was something along the lines of "I don't want to pay my TV license for this filth".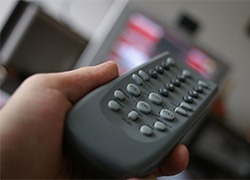 TV isn't there to entertain JUST YOU...
Well, here's the thing Richard. If you don't want to pay your TV license then don't pay for it if you're that bothered. What you have to understand is that TV isn't there to entertain JUST YOU, it's there to entertain everyone. If you're upset by profanity and nudity then there are plenty of high quality programmes before the watershed for your enjoyment. Alternatively you could just get rid of your television set and leave the rest of us to enjoy our programmes!
Profanity is part of our language and the human body is part of our art and culture and there's nothing you can do about it. I hate soaps. They're bland, repetitive and insult my intelligence but, even if I could, I wouldn't get rid of them. The reason is that, unlike Richard, I understand the TV isn't out there just to entertain me. I understand that many people enjoy soap operas and that I'm not forced to watch them.
TV is for everyone and if you don't like it then turn it off!
By: Chris
Leave a comment