107 comments Add a comment
We just want unlimited broadband! Why do broadband providers scar uch as BT, Wanadoo, Freeserve and NTL etc have a capped service that restricts us to between 3 and 30 gigabytes a month? Personally, Ive gone with Tiscali for the time being, not because they offer a better service than anyone else, but because they do not impose a cap on the amount of data I can download.
Its like a return to the bad old days of metered access with a dialup Internet connection and it really doesnt make any sense. Surely they can see that as the speed of broadband gradually increases so will the amount of data that people will download.

There is an almost unlimited number of movies, software, games and music out there all just a few mouse clicks away and it seems to me that the allowance of 30 gigabytes a month just isnt enough.
To add a little weight to the argument, many households have more than one computer and small home networks are very straight forward to set up these days, so it should come as no surprise that the one internet connection may be used by one or more PCs. As the available connection speed has grown, so too has the rich variety of content available and the associated size of the files we download. It is true that there are some selfish individuals who do not play fair; they are permanently logged on to a peer-to-peer (P2P) file-sharing network such as Kazaa or eDonkey and it has probably been this behaviour which has led to many of the internet service providers capping in the first place.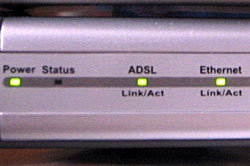 An always-on Internet connection isnt a license to download constantly and some of us are mature enough to use the service responsibly. I tend to kick off my larger downloads overnight and avoid the peak times as you are vying for bandwidth with other users then anyway. On average Id say with 3 PCs in the house we download anything from 20 to 80 gigabytes a month which I think is quite reasonable use of a 2MB ADSL connection.
The way people utilise their internet connection is going to fluctuate, and the 30GB cap or whatever it happens to be is still none the less, a very real psychological barrier. I can remember a time back in the early 90s where with metered internet access, you would have to keep an eye on how long you had been online. The same is true with the download limit only you think twice before downloading a large file. How much have I used up this month? Will I exceed my download limit?
Internet service providers are kind of at the cross roads with this at the moment and no one is sure if the capping thing will work. Maybe all ISPs will be doing it at some point in the future, but until then I will always go for an un-capped service where possible. Its one less thing to worry about!
Leave a comment