33 comments Add a comment
I'm moving house in the near future, and as I work from home I am trying to organise the transfer of telephony and Internet services ahead of my moving date. Ideally I would like to have a near continuous Internet service, but according to BT and most of the Internet Service Providers I have tried, this is almost impossible!
Why does moving home and taking your broadband service with you have to be such a complete nightmare? It's not as if I care that my telephone number will change and I'm prepared to give loads of notice that I am moving so what's the problem? I spoke to yet another BT guy today to try and clarify the situation. By the way, I've spent quite literally hours on the phone to them and Demon Internet, my current ISP, to try and sort this mess out.
Anyway, the BT customer services guy today told me that my "new number" was effectively a reserved slot, so that it was quite possible that the service providers would get a negative result when they queried the line to see if it was ADSL enabled.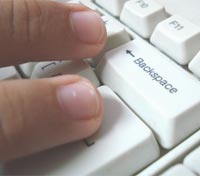 Okay, that's fine I thought. So we'll try the current house owners' phone number; they've been good enough to pass that on to us, so we'll try that and see if the property can have an ADSL service. BT guy thought that this was a good idea too. Alas no, it's not that straight forward, because the previous owner has now cancelled their telephone service and as it turns out, its the same number as our new one anyway. I've got to wait until I physically move there before I can get my broadband sorted out.
I just wish they would all communicate...
This is all just so frustrating. I had originally thought, I'll tell BT what day I'm moving and the tell my ISP that when I'm moving and that will be that. To be fair to BT though moving the phone service is fine. It's just that the ISP can't do anything until they've got the line is in my name and active, after that it's a five to ten day wait. Presumably this is because they need someone at BT to do something.
I just wish they would all communicate and work together, life would be so much simpler for the rest of us if they did. I just want a continuous broadband service (or something close to it) when I move house. Is that too much to ask?
Leave a comment