19 comments Add a comment
How many other people, like me get really fed-up with opening a box or tin, only to find it is only just over half full? What's with all this extra air anyway?
They say you only get what you pay for, but I suspect that this isn't always the case. Sometimes I reckon you may actually get considerably less than you paid for!
For example, in this week's shopping bag I had soap powder, vitamin pills, gravy granules and drinking chocolate. All of these products came in containers that were three quarters and in some cases only half full. Why don't the manufacturers use a smaller container instead of deceiving the customer with a larger than necessary box or tin?
Whilst we are on the subject of packaging, there is something else that I have started to notice. Lots of goods these days come wrapped in this really heavy-duty plastic, and it usually requires a decent pair of scissors before you can actually get to whatever it is that you bought. As I'm sure you can imagine, occasionally this means the odd accident when fingers get cut.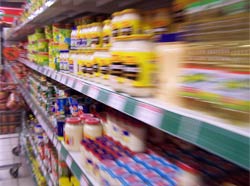 Why do they have to go over board with all the packaging anyway? As we are frequently encouraged to recycle and save energy, I'm sure that it doesn't make any sense to use excessive quantities of plastic packaging with products.
The bottom line is, we want to see what we are buying so no more short measures please! Also, when packaging the product, consider those who buy it as well as the environment; there's no need to go crazy with that plastic!
Leave a comment