21 comments Add a comment
I'm trying to work out what exactly it is I get for my council tax, particularly when it comes to recycling and rubbish disposal. As far as I can see I'm not exactly getting value for money. Yes I know that our council tax pays for lots of things besides the bin men, but I feel that its an area that isn't particularly well serviced... at least where I live.
Like many households these days we sort out our rubbish and recycle what we can, only the stuff that can't be recycled actually goes in the trash. We also use a composter for all the organic waste so at the end of the day there isn't really much goes out in the main wheelie bin.
As far as the recycling goes, Nuneaton and Bedworth council aren't all that great. For example, at the time of writing, they don't collect any cardboard or plastic and if you take a look at the vast majority of stuff you buy, guess what? It's largely cardboard and plastic. We used to be covered by Cherwell council and they did collect cardboard and plastic, but they didn't collect glass. Nuneaton and Bedworth do collect glass which is a good thing, but there again it's probably only a small percentage of the average household's waste.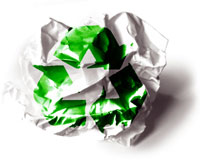 The result of this is that once a month we take a trip to the nearest recycling centre to offload our cardboard and plastic and once a month the wheelie bin goes out.
... better if the same recycling policy was applied nationally
Why can't our local councils just get their act together when it comes to recycling and take the lot? It would also be better if the same recycling policy was applied nationally. We are more than happy to sort through everthing and make sure the plastic, glass, cardboard, paper and cans etc. are all seperated before collection.
Leave a comment