18 comments Add a comment
Whether yours is a take out skinny on the way from the station to the office, an instant thrown down from the machine at work or an indulgent caramel macchiato with extra cream, chances are you're joining the 85% of Australian adults who drink at least one cup of coffee a day.
In line with the disposable age we live in much of this consumption happens on the run with paper cups (and their close relatives trees ) major casualties. We are a throw away nation too busy to sit down for two minutes to reload our over-taxed adrenals with yet more caffeine and whilst I'm not so worried about coffee related health problems; I am deeply concerned about our consumption of paper cups.
We've embraced the reusable green bag as a supermarket main-stay they are almost trendy - why are we still OK with disposable cups as the norm?
Fully grown adults in business suits walking down the street sucking from a plastic lipped cup like a baby sucking from a bottle somehow jars the edge of sophistication that comes with 'cafe culture'. The lid of course does stop spills, making life easier, and that's what this disposable industry is all about; convenience and ease of use. Coffee too hot to handle? No problem just put your paper cup inside another one for insulation. More than one coffee to carry? Help yourself to a paper tray more trees, more waste.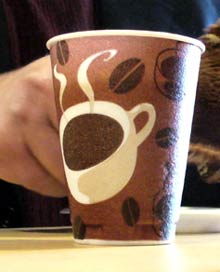 The news isnt all bad, Starbucks recently introduced a disposable cup...

The news isnt all bad, Starbucks recently introduced a disposable cup containing 10% post consumer recycled content, the coffee giant also pioneered the corrugated paper sleeve to serve as an insulating layer instead of the second cup. The independent, non-profit Environmental Defense Fund team who analyzed this project concluded that the sleeve, made from 60% post consumer recycled fiber and 45% lighter than the second cup, was the best environmental alternative out there to double-cupping.

I have become too embarrassed to go to Starbucks. By the time I've taken my own flask, asked for fair-trade and soy and listened to my husband bleating on about the fact that in his opinion I'm supporting a large multi-national American corporation with questionable ethics and an appalling human rights record I just feel like such a pompous, self righteous impostor that it's not worth it.

But what's caffeine fuelled eco-girl on the run to do? Clearly a de-tox headache to save a paper cup is not an option but a reusable cup could be, and this is my solution of choice. You will have to remember to rinse it out between caffeine top ups but at least you'll be able to enjoy your coffee safe in the knowledge you've only ripped off a small Bolivian family (unless you choose fair trade) and not contributed to killing a tree. And some outlets will even give you a gesture discount for bringing your own cup.

If like me presenting your plastic thermos is slightly humiliating (feel like the kid with the Tupperware sandwich box at school when everyone else eats in the canteen?) the coffee junkies at New York based www.wearehappytoserveyou.com make a ceramic cup which they promise 'looks like a typical paper cup for coffee, but is actually made of ceramic'. Reusable, ironically disguised as disposable, and yours for only $12.

By: Katie Manitsas



Leave a comment