11 comments Add a comment
I want to gripe about excessive packaging. Stop, wait, don't go. I'm not a tree-hugger and this isn't a "save the planet" rant. Honestly, I usually find it hard to care about "green" issues, but one thing I cannot tolerate is the stupidity of outright waste.
Typical example, last week I ordered a memory card for my digital camera. I bought it from a well-known online shop. The card arrived in a cardboard box which was almost A4 sized, nearly 1 inch deep. I wondered at first what it could be, since the memory card I ordered is about the size of a postage stamp.
I opened the A4-sized box and find within, another, A5-sized piece of card, emblazened with the manufacturer's logo, covered for good measure in impenetrable plastic coating, which almost required industrial strength cutting machinery to open. (Well, OK, a pair of scissors, but you get my point). All this, for a small, postage-stamp sized item!!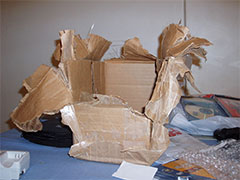 Who PAYS for this plastic and cardboard packaging?
Looking at the item itself, next to the packaging it arrived in, I could not help feeling astonished at the pathetic, stupid amount of waste here. The item took up less than 5 percent of the space of its packaging. In fact, the memory card probably used almost as much packaging (in total) as the digital camera which I bought it for! Seriously. How can this be right? How can it be justified? Apart from anything else, who PAYS for this plastic and cardboard packaging? It's customers like you and I that pay for it, that's who.
I'm no tree-hugger, but this particular issue is something that continues to grate on my nerves. The government are constantly lecturing innocent members of the public on environmental issues, while turning a blind eye to commercial organisations.
How about slapping some serious taxes on commercial packaging and get them to change their ways, instead of micro-managing ordinary people. After all, if our purchases weren't encased in such excessive packages, we wouldn't be throwing so much in our bins.
By: Owen
Leave a comment