48 comments Add a comment
Every week I recycle my cardboard, plastics, tins and glass etc. Well Im not about to take part in these recycling schemes any more - I have decided that it is a lot easier and less hassle just to chuck my household rubbish in the bin and not bother and heres the reason why.
I have been recycling for the past 2 years via the council blue box scheme. I do actually think recycling is important. Its supposed to be so easy than anyone can do it. You put your materials in the box and the council will come and pick it up. Well it started pretty much like that, but recycling now has turned into a nightmare.
Why is it not so straight forward? They want the cardboard and paper separated and in a plastic bag. The tin cans have to be immaculately washed out and the labels peeled off so that there is not a single bit of paper or food left on them. They will only take certain colour glass, again with the labels soaked off.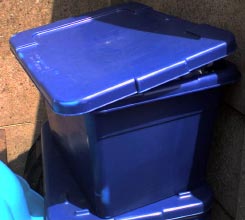 We expect to have to do SOME sorting...
As for plastics they will only take certain types of plastics and no lids or caps. Its absolutely mad. We expect to have to do SOME sorting, but not this level.
Each week my girlfriend and I have a bet to see what they will leave behind. As I said I'm all for recycling and helping save the environment, but these people want me to do their jobs for them and Im not about to comply.
Not only that but they leave a load of rubbish blowing around the streets after they have been through picking up the blue bins. Whats the point?
I'm just going to put it all in the waste bin now because at least it doesnt whinge and moan at me and you can guarantee it will be picked up.
By: Simmy276
Leave a comment