200 comments Add a comment
Whenever I look at this forum, and others, I am shocked at the way people mangle the English language. I find that many non-native English speakers in UK, particularly the Polish, speak and write English to a far higher standard than native speakers.
The problem is that bad English perpetuates itself as children copy parents and students copy teachers, it is therefore incumbent on everybody to make the effort to use the language correctly.
We all make mistakes, and the odd typo can slip thruogh (oops!), and some people find it hard to spell accurately, which is also excusable. Dyslexia, to a varying degree, affects about 10% of people but most dyslexics are highly intelligent and motivated. Two of the most successful people I know are dyslexic and one, at the age of the 35, realised how this was hampering his career, and undertook a special training to improve his ability to write well. Since then, he has done incredibly well.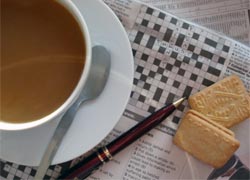 What really infuriates me is poor grammar and deliberate mis-spelling, for example:
"We was on the train ..."
"Me and me mate went down the shop ..."
"So wot if ..."
i also get really annoyed when i see people writing like this and wiv no punctuation or capitals or brakes between sentences it is pathetic i suppose they fink its clevur or sumfink
Then there are those who think it's clever to write and talk like Jamaicans, in that awful Yardie slang, or to write as if they were texting on a cellphone. I may well be accused of intellectual snobbery, and that doesn't worry me one iota because I am a snob and proud of it, but I have to say that people who don't take the trouble to speak or write properly demean themselves and debase any value that their opinions might otherwise have.
I have no doubt that I will come in for some considerable flack for this comment, but please don't bother unless you can express yourself coherently and accurately, and don't waste your time or mine with insults and abuse as I'm impervious to them.
By: MikeP
Leave a comment