32 comments Add a comment
Hi all, I've got a gripe for you. Now just to give you a brief background on myself I'm 23, a white British male who is single with no kids, the lowest of the low according to British society but that's another gripe entirely. I've worked since I was 16 and whilst I was a full time college student I took on part time work and was paying some taxes, although obviously not much. It was the same story when I went to university until I was 22.
I'm now almost 24 and managed to get into a full time job straight out of University working for, ironically, the local college I attended when I was a teenager. My gripe is about EMA and about the strain on society that some of these welfare dependant mongrels are going to be for all of us during their lifetime.
When I was 16 my mother made me go out and get a job, and all respect to her for that. It was only a 6 per hour supermarket job but it taught me all about managing money and allowed me a social life (when I had time) and some financial independence. I now teach young people and as I it wasn't that long ago when I was in their shoes, it gives me a good insight into why the system is wrong.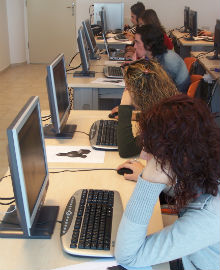 EMA - spend it on booze and cigarettes
A lot of them simply DON'T WANT TO WORK and they say they come to college just for EMA. Some of these youngsters have part time jobs and don't get EMA as a result, others have high earning parents and also don't receive the allowance, but that doesn't mean their mums and dads are feeding them cash. These ones are the exceptions as it's usually the complete dossers who get it and spend it on booze and cigarettes at the weekend.
Maybe it should be more like jobseekers allowance. For example if you are looking for a part time job, you get £30 a week. If you get a part time job while you're at college, as a reward you get £50 a week for the first few weeks instead of £30, then back to the normal amount (similar to the back to work for over 50s scheme). As for the lazy ones who can't be bothered - they get nothing. They can't sign on the dole until they are 18, so it may get them to get their backside in gear and find a job or apprenticeship.
Just an idea, it probably wouldn't work and people would still fiddle it, but surely it couldn't be worse than the current system? Now after all that... I had to work through college and couldn't get EMA. When it was available the dossers all cashed in and abused it then the government decided to scrap it. Do the powers that be no longer care about further education?
By: Young Teacher
Leave a comment