8 comments Add a comment
Here's my gripe about dress codes in bars and nightclubs. In the city where I live (Adelaide), I am restricted to just three bars where I can go out for a drink. Whilst these three bars are some of the hippest pubs in the city, I find it extremely annoying that I am refused entry to the other venues in Adelaide for NO good reason whatsoever.
Being a professional musician, I am refused entry for wearing hats (Donny Hathaway style), tailored suits and custom Italian dress shoes. Whilst my attire is very smart with attention to detail, I'm still refused entry to the majority of bars and clubs here in Adelaide. I can't see what the problem is apart from being too fashionable and slightly individual. I actually feel very discriminated against.
What is the problem with men wearing fashion hats? Females seem to have no problems getting in to these clubs wearing them. The people on the door will often tell me that I can't come in and that it is for "security reasons", but then they can't elaborate any further. Quite frankly ridiculous in this day age!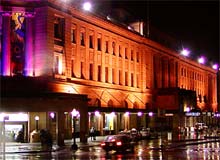 ... should be able to wear any fashion item they like

Punters should be able to wear any fashion item they like in their local pubs and clubs providing they are tidy and hygienic. Who makes these stupid rules? Is it the club management or is it the security companies trying to justify their existence - who knows? Do we all have to dress like sheep these days when we go out and if so, what ever happened to class and individuality?

On my travels I have experienced these kinds of problems both in Adelaide and Sydney, however in groovy Melbourne it was a different story altogether. The bars and clubs their had no issues at all with the way I was dressed.

By: A.



Leave a comment