47 comments Add a comment
I work for a large retailer in UK and serve a wide spectrum of customers daily, from kids to OAPs, to businessmen. Whilst serving I've noticed a real slip in dress standards these days. I see a lot of old folk coming in wearing clothes that either are in need of a good wash or are falling apart, either that or they are so mismatched it looks completely hideous. I must say though that some of these OAPs do dress smartly and are very clean. I say if you can afford to shop you can afford to wear clothes that are clean and in good repair.
Then there's the kids, which to my dismay insist on wearing jeans so low you can see most of their pants. Why? I don't expect kids or teens to dress in suits and ties (although it would be funny), but do think they could at least have some standards. I mean the point of a belt is to hold you trousers up around your waist, not your lower hip. Also, why do some teens and young adults insist on wearing braces, but have them hanging from their jeans instead of over the shoulders. I've also seen them wear them with a belt which is a big no no.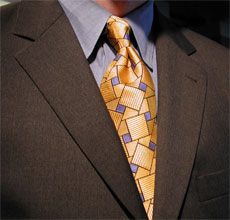 the suit should be the correct size and not look like it was borrowed from dad...
Now for the worst offenders, business men, women and office workers. I object to these people wearing clothes that don't fit, don't go together and worst of all don't flatter their shape. I see a lot of men in suits too big, shirt collars too big, with ties poorly knotted and shoes unpolished. I know a lot of offices are now more casual, but surely if they wear a suit and tie they should make an effort to get it right! For instance the shirt should fit, tie should be knotted with a dimple and the suit should be the correct size and not look like it was borrowed from dad.
If I ran a company I would have all my office worker in suits. I would also try and get them to wear braces and collar bars or tab collar shirts and tie bars. They would wear the braces and look smart holding the trousers at the correct height (not half way down their backside). The tie bar would mean their tie would be harder to remove plus they add a little sparkle. I don't think we quite need to return to Victorian ways of dressing, we just look a bit neater and put more thought into what we wear.
I'm 28 and I always go out dressed well with all my clothes are clean and ironed, even if I'm only in jeans and a t-shirt they're still clean and pressed. If I could go around the kids and teens pulling up their jeans I would, but I'd probably get arrested or something! What you're opinion on this matter? I'm especially interested in the opinions of office workers regarding casual dress at work?
By: vintagefan
Leave a comment