431 comments Add a comment
Isn't it wonderful when you come home from a night out, or if you have been to work on the bus, train or whatever and you find a big ugly lump of chewing gum stuck to your clothes?
Try Lydia's method below - this really works!
This really annoys me because there is absolutely no excuse for it. Chewing gum comes with this really convenient bit of silver foil that you can be used to tidily dispose of it once you are done. Why then, must some ignoramuses out there go around sticking their gum on seats or other similar places, where it is likely to get stuck to someone else's clothes? It's just anti-social and there is absolutely no need for it.
Chewing gum pollution is a big problem for councils around the country. I shudder to think how much of our council taxes go towards cleaning this stuff off the street just because somebody couldn't be bothered to put it in the bin. Okay, it tastes great and I freely admit to chewing gum on occasion myself, so I'm not saying it should be banned or anything like that. There is even a chewing gum on the market, which the makers say can enhance the breasts; now I guess we know what Britney Spears has been up to! Absolutely bizarre that one like, but apparently it does have some useful medical properties.
But please, for the sake of the rest of us, dispose of your chewing gum sensibly when you have finished and help keep Britain tidy!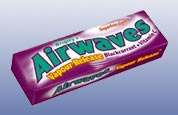 Chewing gum removal - how to get it out of clothes
"Put washing up liquid on the chewing gum (if spread in) and then add salt. With another piece of fabric rub against the thread of the garment. It really works!!" - Lydia
If this tip has helped you in any way, it would be great if you could spread the word, mention this site or recommend this page on Facebook, link to it on your blog or tell a friend.
Leave a comment