26 comments Add a comment
I was made redundant a few months back, and as a result, I am currently living with the in-laws. To cut a long story short I am kind of not particularly happy at the moment. Other than struggling to find a job in an area that had few jobs even before the credit crunch (The Midlands), I am finding it very hard to understand the mother in-law personality and attitude.
I'm sure it's commonplace for men not to understand the mother in-law. British comedy was built on mother in-law jokes, and boy I could dine out on the ones I have right now. But the actual problem is this, she doesn't understand the world and how it works. Its like living at grand ma's house but the sad thing is she isn't even 52 yet! For example she comes out with comments like "computers are a waste of time, why do people need them?" and "I have never had an interview in my life" (that's why you are a cleaner). It's actually true that she has never worked more than 2 hours a day in her life, and by choice! Her husband, the father in-law works 7 days a week. Now I can't work out if its to keep away from her or just to keep them afloat.
It really bugs me though how misinformed she is and how she blames everything on other people. She said to me "You have all this education and yet you don't know how to put clothes on the line." She said it in a such a way that gave the impression my life depended on clothes hanging on the line more than anything else. Maybe when she spent her time hanging clothes up I went out and got a education instead!
Does everybody in the world have certain foods on certain days? Do you have to have a baked potato on a Friday, Sausage and chips on a Monday, then have a roast every Sunday? Are people really like that? Before I moved in I had been living 4 years with my missus and another 10 years almost on my own (or with flat mates). During that time I have never, ever planned a meal until about 10 minutes before I eat it. I love cooking, love a good challenge and find it a good way to escape. TMIL (the mother in-law) on the other hand has to have this post-war-rationing meal planning...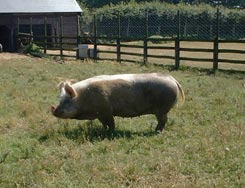 Personally I wouldn't mind if it had some olive oil in there, or some rice, or maybe even noddles for a change; something steamed or roasted perhaps? But nope... it's all fried food dripping with grease and she has a cheek to call fast food unhealthy.
Both in-laws have had health issues in the last 10 years either with kidney stones or mini heart attacks, and still they eat like this. You might be thinking (and I forgive you if you do) why don't I buy my own food? Well I tried that. I bought a lovely piece of salmon that I was going to cook it for us all, steamed with wild rice and vegetables. I went out for the day, and came back just after 6.30pm. The regimented way she lives her life dictates that they have to eat at 6pm (god help her if she had a job!). She had a go at me for not being back on time which meant they were starving. I got the pan on and grabbed my steamer.. Now remember people, I am cooking here. She stood there watching me. "What are you doing?" she said. "Just getting the water (which will be boiling) up to temperature" I replied. She then said "That won't cook it you know, you will have to fry it!!"
In the end she had a separate dish of fried salmon, with veg. She didn't like the black rice in wild rice, she has never tried it but she didn't like it anyway - don't ask! She doesn't like curries either. She thinks they're foreign rubbish - even though she is from the Midlands where the common curry was invented! All curries are labelled the same to her though.
Another thing - you can't have a joke with her. I pointed out to the misses one day, "Hey look at that house it costs 36,000 (it was actually a little caravan), maybe we could live there..." I was actually joking, but she seemed to have for some unknown reason got the wrong end of the stick and said to me "With what money!" OK I thought... maybe she was joking too. She wasn't though, she was serious - "What money? You haven't got a penny to your names..." As it happens we do have savings, but that's besides the point, because she will take every opportunity to say stuff like that to us.
The sad thing is she is a walking contradiction, you have got to constantly correct her on everything, and I mean EVERYTHING!! Has anyone else had the misfortune of living with a mother in-law like this?
By: Derek
Leave a comment