12 comments Add a comment
Are all mothers in law complete pains in the backside? I'm sure all of them aren't bad but mine is and she's driving me mad! For example, if there's a crumb on my floor or a cup in the sink I'm a scruffy cow. If I don't get the washing out of the washer the second it's done I'm a lazy cow. She tells lies (which she has admitted to) to cause arguments. She rarely has our kids to stay over, but always has their 7 other grandchildren at drop of a hat and it's not because our kids are naughty because they aren't, it's because the others are always there and there's no room for ours (her own words). The other grandchildren have parents too...
Although she rarely has our kids, when she does she favours our little boy over our 2 girls and it's so damn obvious. I causes conflict between our kids and my partner and I have to pick up the pieces. She then says she will have the girls so they don't feel "left out".
My partner and I got invited out for a meal last year with our friend, so we asked if she would babysit. She said no, but then went on to say that she would ask my father in law to come to our house and watch the kids, but we would have to pay him!! Why should we pay him when my partner's brother and sister have never been asked for a penny and their kids are always at her house? We didn't end up going for the meal. My father in law knew nothing about that until recently and he wasn't very happy when I told him. He's totally different to her and he said he would never charge us for watching his own grandchildren!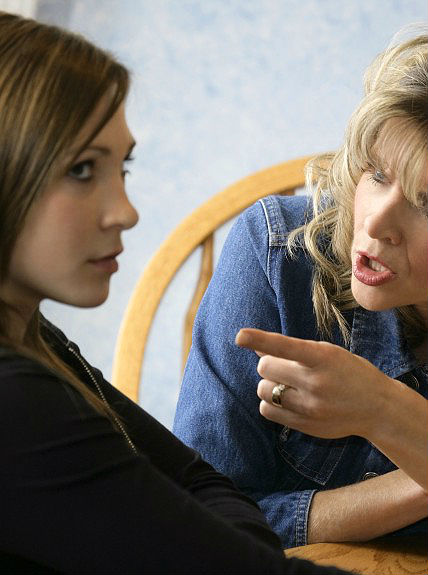 One minute she's up my backside and asking me to drop everything to go help her with stuff and then the next she's up someone else's bad mouthing me to all and sundry. I know she talks about me because she talks about EVERYONE, so there's no doubt in my mind. She moans about my house being "cluttered" with toys as she puts it. I've got 3 kids for crying out loud and they wouldn't have as much "clutter" if you would stop bringing everyone else's cast off "clutter" to our house! I told them "no more old toys thanks", but they still keep bringing them round.
I've got to a point where, after 10 years, I've started speaking up but when I do it either falls on deaf ears or lands me in the s**t! What do I do? Speak up or put up and shut up? She didn't talk to my partner for over a year the last time he spoke his mind and she took it out on the kids, didn't even come see them Christmas morning like she usually does. If I speak up she will do it again but kids aren't exactly missing out because she doesn't bother with them much these days as it is and quite frankly I'm sick of trying so damn hard with her. It makes me wonder why I even shed tears over it in the past because it wasn't worth it.
Leave a comment