44 comments Add a comment
My son owns a motorbike and we allow him to take it out to ride on private land nearby. Our house is not attached to our garden and we have to cross a small footpath to get on and off our property to a small fenced off concrete section outside our back door. My son has now had three cautions for pushing his motorbike over this small path to get it into our garden to wash it down when we have been out. The police officer in question knows when we go out and when we come back. He sits there and waits for my son to do this and has recently warned him next time he will take the bike from him.
Can this not be classed as police harassment...
I could understand if he was one of those youngsters that ride their motorbikes illegally around the streets, but we act responsibly and take him to a place he can ride safely. He does not ride on public highways or cause a nuisance like many of the kids around here. By the way, this particular police officer just ignores them and focuses his attention on my son. Can this not be classed as police harassment?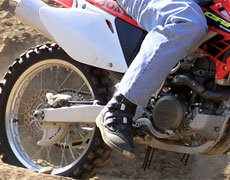 I feel he is getting tared with the same brush because his older brother (who no longer lives with us) was arrested several occasions for drunken disorder. This police officer is victimising my youngest son because of the reputation of his older brother which is very unfair. When my son refused to tell him his full name and date of birth on one occasion, he even went as far as saying he probably had a criminal record and that he would get his details of the database anyway. I then pointed out that he was assuming he been in trouble with the police before, to which the officer replied that the family name rang a bell.
Well of course the name would be familiar, this was the same officer who continually arrested my other son! The word "polite" doesn't seem to have any meaning for this guy though and he comes across as a very aggressive individual. He doesn't listen to a word you have to say and as far as he is concerned, he's always right and you are wrong. I feel that the treatment my son has received is very unfair and I wish somehow I could complain about this officer without any repercussion, but somehow I doubt that would be possible.
By: Silvershadow
Leave a comment