20 comments Add a comment
Why are people so obsessed with using PDF (portable document format) files? In my opinion they are the work of the devil and cause more problems than they solve.
Their use seems to be more prevalent with our friends across in the US than they are here in Europe, however I suspect that picture is slowly changing. I personally can't see why people like using them as I find them to be a real pain. Sure they are great if you want to print the document, with a PDF what you see is what you get, and you can guarantee the document will be formatted exactly the same for everyone. I think however, you need to seriously weigh up the pros and cons of PDF versus HTML.
Don't get me wrong; I can see why many people would prefer to use them, particularly if you are in the business of writing reference material. You can't help but notice how many user guides and instruction manuals now come in this format. Every other manufacturer web site has their documentation in PDF format available to download.
It's the unwanted side affects that turn me off PDF files, little things such as having to install the Adobe Acrobat Reader or plug-in to begin with. Also, when you open a PDF file, it takes longer to open than say an HTML or text document. I haven't got the fastest PC in the world, but the lag is quite noticeable. Browsing an HTML document on the other hand is a much smoother experience and for me getting to the text quickly is very important.
From the moment I open up a PDF file, I find the whole experience irritating. The first thing I usually do is scale the document so that it is readable. Even when the display is at 'actual size' to begin with, the text always seems quite faint and difficult to read. I suppose this has a lot to do with the way the document was created, but I wish these people would remember that we're not all equipped with a 21-inch display!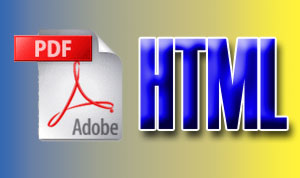 And that brings me to another point. If you want to create a PDF file (why?), you have to go off and install Adobe Acrobat and learn how to do it, so it's not as straight forward as creating an HTML document. There are loads of WYSIWYG html editors for those who don't write it by hand. I haven't seen as many tools for creating PDF documents.
After a while using web browser, then switching to a PDF file, the actual navigation seems a bit alien at first. The bookmarks are okay I guess, although I don't always use them. I am more comfortable searching and paging through the document as I would a web page, although I find the search dialogue box on the Acrobat Reader very clunky and slow and as for paging through the text, I definitely don't like the way it handles page breaks. I frequently have to scroll back a bit so I can still see what was on the previous page.
Maybe it's just me, but you can keep your PDF's and your Adobe Acrobat Reader. I'll take html, text or even a word document any day!
Leave a comment