11 comments Add a comment
As part of my job I get to test web sites using various different browsers such as Mozilla FireFox, Internet Explorer, Safari and Opera. It's good in a way because I get a chance to really play around and decide what I like best. Don't get me wrong, I'm not one of the regular geeks who goes out to use obscure software just for the hell of it. I'm actually really looking for the browser that's right for me and I have recently began to lean more towards Mozilla FireFox.
There's definately some good competition out there...
I haven't got much memory on my laptop and to be honest I found the latest version of Internet Explorer (version 7.0) a bit of a memory hog. I have always been a fan of IE in the past but there's definately some good competition out there. They've all got their flaws though so here are some of my thoughts on the current browsers. I tried them all with the same page loaded.
Internet Explorer 7.0 - Well it looks good and the use of "clear type" by default to smooth the edges of screen fonts seems to work quite well. Actually, I think pages have always looked nice in IE so no gripe there. It renders quickly and generally works very well. However, my main problem with it is it takes up a large chunk of memory and the more pages you have, the more it consumes. This may not be a problem for those of you out there with monster PCs, but with very little memory to begin with it hurts when you're browser takes an extra 20 to 30MB (especially if you have Photoshop loaded - another gripe I guess!). Another thing I don't like about IE is the cluttered toolbar area and the big tabs. It's just a bit messy up there. All in all, I'm a bit undecided about Internet Explorer these days. If I had the memory and a faster machine I'd probably keep using it. (40MB)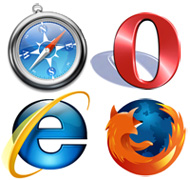 Opera 9.26 - I've always had a soft spot for Opera and can remember using the early versions when Internet Explorer was fresh on the scene and about to slug it out with the then very popular Netscape. Back then Opera was a favourite of mine because it was lean and fast. Unfortunately it was let down by a few incompatible rendering characteristics. It was bad enough having to code for two browsers and to be honest Opera didn't have much of a fan base at the time. This latest version is really quite nice and I'd go as far to say renders not unlike Internet Explorer. The memory usage seems to be about half that of IE as well so that's a big plus. What's with these silly widget things though? I like to use the Google Toolbar, but could only find this widget thing instead and that was less than useless! Widgets are big mistake and I think Opera should have went with toolbars and add-ins likeFireFox. (20MB)
FireFox 2.0 and 3.0 - I started off using FireFox 2.0 and initially didn't like it at all. Being so used to Internet Explorer it took me a while to adapt. Things improved somewhat when I set up "clear type" on my laptop and installed the clear type tuner from Microsoft. The page became much more readable. FireFox is a bit slicker than IE and I liked the "Find" tool. However, other aspects such as file download and the really thick underline on bold text I find really quite annoying. I just recently tried out a version of Mozilla FireFox 3 (beta 4) and personally thought that it was a tremendous improvement on FireFox version 2.0. However, I've decided to switch back until they've brought it up to scratch. I can't live without my Google Toolbar and there isn't one available for this version (yet). Also, what on earth did they do to the "Home" button? I got it back eventually, but it was a bit of a fiddle! (28MB)
Safari 3.0 - Not sure where to begin with Safari. Basically, I don't like it at all. The look and feel isn't really my cup for starters, probably because I'm not a big Apple fan to begin with. It seems to have a big footprint too (maybe that's just the Windows version) and perhaps the most annoying thing for me was the way the address bar works. You click on it and then have to do a CTRL -A to 'select all' before you can type in a web address. Every other browser I've used automatically does this when you click on the address bar and why would you want it any other way? I also find the endless sea of grey a bit depressing. One good thing I suppose, is that it probably gives any Apple user forced to use a PC a warm fuzzy feeling inside - well each to their own I say! (45MB)
Conclusion
There's a gripe with all of them. I enjoy using different ones if for no other reason than that I get to make sure my pages work no matter the visitor happens to prefer. I'm now pretty much torn between sticking with Internet Explorer and moving on to FireFox. In particular, the new version looks like it could well be an IE killer and this comes from someone who once swore allegiance to Microsoft (I was young and I needed the money!). It's a real shame that Opera isn't quite up to the job. Other than those widget things its a very good browser. Who knows what new innovations will come along in the next few years though. The battlefield might look completely different then.
Leave a comment