24 comments Add a comment
I am passionate about tea. I love a nice cup of tea with plenty of sugar in it and not too much milk.
Where I am working at the moment there is a culture of making tea in rounds. I instantly cringed when I realised this as this is usually the catalyst for many sub standard cups of tea.
Britain has become a nation of "that'll do". Our lives have become so hectic that apparently some of us are too busy to eat or drink properly. We are constantly bombarded by things designed to make our lives "easier" and "healthier" such as pre-sauced fish, "half spoon" sugar and oven "chips". Most people who go out for a "beer" fail to see beyond the usual mundane selection of Fosters, Carling Stella or Kronenbourg. It doesn't matter that there are hundreds of diverse and different tasting ales out there, the brain dead population insists on drinking lager because I suppose, "that'll do". They are obviously not drinking it for the taste because it is non existent.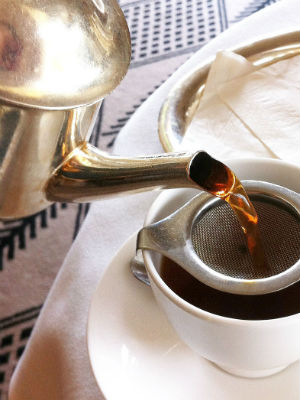 sugar fascists; people who don't have sugar and therefore begrudge you having any
So all of this finally brings me to tea. Why do people "kindly" offer to make you a cup of tea, then insist on not making it properly? Some people seem to think that wafting a tea bag within a foot of a cup is sufficient to produce a nice flavoursome cup of tea. Not to mention the sugar fascists; people who don't have sugar and therefore begrudge you having any in your brew. They say to me, how many sugars? I say "2 heaped please" then they go off into the kitchen (usually after a lecture about how much sugar). What comes back is usually something disgusting which I am forcing down my throat to be polite. I don't know why I am so polite about it because I think it is the height of rudeness to offer someone a drink and then completely ignore their preferences. They either don't give you enough sugar, or don't bother to stir it so that you have mug of completely unsweetened tea followed by a horrible syrupy sludge at the bottom; "that'll do" I suppose. Most people don't even seem to know what a good tea is. The ignorant masses stand there in staff kitchens at work twiddling about with their bags of Typhoo or Tetley. You can also see the guilt on their faces as they hurriedly try and finish their "brew", without wasting too much precious company time. I mean, they only give 5 days a week, and 8 hours a day of their lives to the business, god forbid they take the time to make a proper brew.
I hate this society we have turned into where doing anything properly has become "too difficult" to do. Since when has it been hard to chuck some porridge and milk into a pan? No, it must be prescribed to us by a corporation in little microwavable bags in case some of us find operating a gas hob "too difficult". Equally, how hard is it to chuck some loose tea leaves in a pot with some hot water, wait a few minutes then pour into cups through a strainer. Really and truthfully, how much extra labour does this create? Try it yourself!
No more am I going to get involved with communal "tea" rounds at work.
By: Lord Tinsel
Leave a comment