40 comments Add a comment
Whatever has happened to Strawberry Jam in this day and age? At one time you could go to a supermarket and buy posh jam - conserve, or preserve, or whatever it's called. Inside, you'd get lots of lumps of strawberry - a bit like the jam my mum used to make. OK, it's a bit (a lot) pricier than the Robinson's or Hartleys cheapo varieties.
But that's half the fun of getting good jam. You don't know what you're going to get on your knife when you plunge it into the jar. Will it be jelly that slips off the knife onto the worktop, back into the jar, or onto the floor or down your front? Wherever it drops, it never seems to be on the bread. Or will it be a hard bobble of strawberry that stubbonly burrows it's way into the bread and refuses to budge.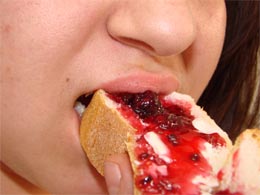 Now, all the posh jams are like the cheaper varieties - just a rich tasting jelly
Now, all the posh jams are like the cheaper varieties - just a rich tasting jelly. That's not what I'd expect from posh jam. Now I'm forced to buy Plum or Blackcurrant, which does have bits of fruit skin in it. I did discover one good strawberry jam though - Little Scarlet. I can quite understand why it's called that - you go bright red with shock when you read the price tag. Surely, I shouldn't have to fork out over £3.45, YES, THAT'S £3.45 for a jar of strawberry jam.
Well, at least I've found a decent variety, so there's something to be said about that. But I didn't think I'd need to remortgage the house to pay for it. To make matters worse, I've got four jars of posh Strawberry jam in my fridge - all half eaten - because I was heartily fed up with sticking my knife into them and all I was getting was JELLY! JELLY! JELLY! AAAAHHH! Now I know how oil companies feel when they invest millions of pounds in offshore drilling and discover a dry hole.
So, a message to you jam makers out there. I'm starting a campaign called 'It's Jam, Not Gravy We Want Lumps.' A lumpless strawberry jam is more than adequate proof to me that Englishness is going down the toilet and, let's face it, we Anglos do need to preserve… or conserve…. our culture. Otherwise, we will eventually be forced to eat scones and cream with no strawberry jam. The end of cream teas is the end of Englishness, as we know it. That won't do at all. You can see me picketing outside Downing Street, wearing a white T shirt with a strawberry on the front.
You are all welcome to join me.
By: Jammy Bun
Leave a comment