41 comments Add a comment
Monday morning I come into work, switch the lights on and then flick the kettle on. It's 8am usually when this happens, sometimes a little earlier depending on how the traffic was. Officially the office opens at 8.30am, which is the time you expect people to turn up, switch the computer on and get on with their work.
I don't mind people putting the kettle on and having a coffee to wake themselves up (who doesn't), but if you turn up at 8.35am and then decide to make yourself some toast and a cup of tea, sit in front of your computer looking at Facebook for an hour or two before even thinking about doing what you're paid to do - then that's a completely different matter. Oh, that's right - you've got a hangover haven't you?
These people must spend the whole weekend inebriated (or on something). They then decide to come in to work with a hangover and probably aren't even remotely productive in their job until Tuesday afternoon (and that's on a good week!). But that doesn't really annoy me. As far as I'm concerned, they can carry on and be non-productive because its their life they are squandering at the end of the day. If their way of living impinges on my life however, and they start to get personal about the way I live then that makes me very angry indeed.
I don't go out drinking all night till 4am, taking god knows what as recreational entertainment. I don't drink until I drop and then end up in hospital with a stomach pump attached to me. I'm 29, nearly 30 and whilst I may have done some silly things when I was 18, I certainly don't do that now.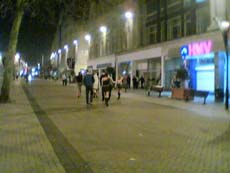 'HANG ON' you're probably thinking, 'You're nearly 30 and your moaning about some kids you work with?' Well actually they're not kids, they're all somewhere between 25 and 35 so they ought to have grown out of that kind of behaviour by now. To top it all off they all live at home and have no responsibility... AND they're all girls!
I went out for a staff do with these girls once and all the guys called it a night at 9pm (we started drinking at 7.30pm). These girls drank 4 bottles of wine between 3 in less than an hour so you can only imagine what it was like. We even got kicked out of the pub we where in because of the way they were behaving - and it wasn't exactly a classy joint either! It was embarrassing and it was horrible, so the guys all made their excuses and went home.
The next day it was apparently 'funny' to be that drunk on a Tuesday night. The whole morning was spent with comments like 'aww. my hangover...' [insert high pitched girlie laugh].
Are my colleagues and I alone in having to put up with this kind of behaviour or are there others out there who endure this kind of thing? I'm just curious to know and would also like to hear some comments from the girls that have this kind of lifestyle.
By: No Hangover..
Leave a comment