48 comments Add a comment
Just when you thought it was safe to open your inbox, along comes another huge helping of spam mail from Hotmail and Yahoo along with so many other culprits it's impossible to list them all. There's no escaping this phenomenon because anyone can set up a web mail account and there's no shortage of victims out there to target these mails at. Funnily enough, I've now got a GMail account and don't have nearly as much spam.
How many times have you looked in your mail inbox and discovered numerous emails from people that you do not know offering anything from thingy enlargements and more adult material than you can chuck a stick at, right through to wonderful business opportunities that will make you rich in about twenty minutes? I've had my fair share of this sort of stuff and to be honest I'm getting really fed up with it.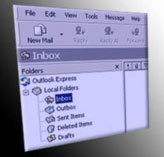 On top of all this I get mail from numerous companies all trying to sell me their products and services most of which really do not interest me. If this type of stuff was meant to be a targeted mail shot, then it was most definitely way off the mark! Don't get me wrong, its not that I hate email, because I don't mind receiving mail from a site that I have subscribed to or email from friends. I just hate receiving junk mail and don't think that I should have to put up with it.
To be fair, many of the big web mail companies such as Yahoo and Hotmail have provided facilities for filtering incoming mail and dumping them into junk e-mail box. This approach can be fairly successful for a lot of people as you can have these messages automatically deleted so you never see any of them. The problem there is that some emails that are not necessarily junk could end up being deleted by mistake. Of course the way round this is to have all your spam directed into one mailbox that you will still have to trawl through at some stage and decide what is and what isn't trash.
Leave a comment