18 comments Add a comment
Well, I wasn't very happy when I walked in to the office this morning and saw the state of my desk, it was like a whirlwind had hit it!
My phone was half pulled out, keyboard and mouse pushed out of position, pens thrown across the desk, piles of papers were no longer in piles, my flat screen monitor had been pushed to the point that it nearly fell back when I put it on this morning and even a couple of notices I had pinned up on the desk partitions had come down. Did the cleaners by any chance attempt to clean our desks last night? What's worse is they didn't even do a good job, I can still see a bit of fluff on my desk by my keyboard and mouse cables!
"The cleaners are instructed to only clean clear desks"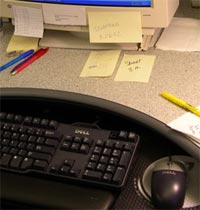 I don't mean to sound ungrateful but I really would much prefer that my desk is not touched by anyone if I have to come to this each time. It wound me up so much that I emailed our Facilities Manager and she said that the cleaners are instructed only to clean our desks if they are clear and are not to move anything. Well my desk was clear apart from the usual things that are on most people desks, so that doesn't explain why it looked like it had been hit by a mini hurricane.
So, I would say that the cleaners definitely weren't listening to their instructions. Guess that's was you get for cheap labour!
And whilst we're on the subject of cleaners… we often have cakes and biscuits in our department. Funnily enough they sometimes disappear over night. I wonder where they go to? I have been so tempted to plug a web cam in to my PC at work and leave it switched on over night just to see what really goes on when we're not around.
Leave a comment