21 comments Add a comment
Having had another bad week on the M25 I decided I had to get this off my chest. I use the M25 anti-clockwise to return home from the M4 interchange, but the worst stretches in my opinion are the M3 interchange and the A3 interchange.
Queues at these sections are exacerbated by the mindless morons who nip down the long exit approach roads and then nip back into the inside lane on the M25. You also have the last minute lane changers going from the middle lane to the exit slip road. All this poor driving does is increase the queues as drivers jockey for position. To top it all you also have to avoid the foreign lorry drivers who are doing the same thing but they do not bother to look before they move. They just pull out and go where they want to with no thought for anyone else on the motorway.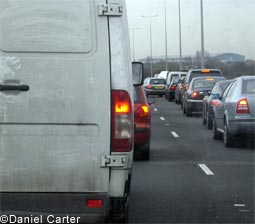 Rubberneckers who slow to a crawl, gawking...
A typical journey will also be slowed down by the rubberneckers who slow to a crawl, gawking at what has happened to some unfortunate driver on their side, or on the other side of the motorway. Why can't they get it into their heads that their journey would be so much quicker and safer if they drove with consideration for the road conditions and avoided the temptation to be nosey rubbernecker?
Finally, what about all those impatient drivers who nip off at an exit because there is a queue in front of them. They then cause a bottleneck on the other side of the interchange as they battle to rejoin the motorway. Is it just me or does this sound like crazy behaviour? I don't know what the solution is to all this but I feel better now!
By: Peter M25 Commuter
Leave a comment