222 comments Add a comment
It never ceases to amaze me how some people can be so prejudiced about the way you look and in particular about your hair style. It seems that people do in fact judge the book by its cover and if you don't fit in with the rest of the crowd you can expect different and sometimes even hostile treatment.
Occasionally I go for something a bit different with my hair style and clothes; so I recently decided to be bit more radical than normal and opt for a mohican style haircut. I got the usual funny remarks about mid life crisis (maybe true in my case!), BA Baracas, I ain't gettin' on no plane!, Jake from the Tweenies and all that kind of stuff.
No problem, kinda funny and well I guess it goes with the territory really.

That sad and unfortunate fact however, is that the older and more conservative folk seem to have a problem with this. They don't care for all that and seem to have some preconceived notion that you are thug about to go out and you are about to rob someone or break the law. You can see it in their eyes, the sideways looks and whispering. If they can, they'll make life difficult for you and in their way let you know that you're not welcome.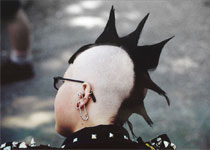 Mohican hairstyle, long hair, short hair?

I quite object to this kind of treatment. Just because you look different, it doesn't automatically follow that you are out to cause trouble. A mohican hairstyle, long hair, extremely short hair, it is all the same in that you're either in that minority or you're not and you blend in with Joe public. Why do some people have this attitude? We're not hurting anyone, and it doesn't change who we are inside.
There are plenty of really sick, violent and downright nasty people in the world. The vast majority of them you may pass on the street and you wouldn't even give them a second glance.

Is it... because they look normal?
Leave a comment