605 comments Add a comment
This is very simple! All horse riders/owners on the roads are not stuck up, posh and snobby. In fact the majority of us work really hard to afford what we do and go without other things so we can own or ride a horse.
I understand that encountering horses on the road can be tiresome and may take up much needed time to pass them safely, and then to not be thanked by a rider is just galling, but there are rude people in all walks of life, drivers often witness other drivers being inconsiderate, pedestrians stepping out in front of them, drivers doing dangerous things like drink driving or speeding, but everyone is not tarred with the same brush. There is nothing more frightening than having your stirrup whipped out from underneath you by a wing mirror!
"You shouldn't ride your horse on the road if you can't control it!..."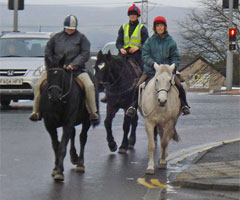 Please drivers, consider that when a horse rider asks you to stop or slow down it is not because we want to be awkward, we have a very good reason, like we can see over the hedge and can see a car coming the other way, or some prat on the pavement thinks it's funny to wave a plastic bag in the horses face and we know it is going cause an issue. And the cry of "You shouldn't ride your horse on the road if you can't control it!" goes up, very true but consider this, has your dog ever slipped it's collar and run off? Just once? Has your child ever done anything like run away for a bit of fun and get too near the road? Your cat never had a near miss dashing across the road? These are all unpredictable events, as are most incidents that happen with horses. But have you ever wanted kids, dogs and cats banned from the roads? Do you refuse to slow down when a child is too near the road? Or a dog is loose running down the road?
Just because we are on horses doesn't mean we are automatically rude, inconsiderate and stuck up! The next time you sigh and moan because there are horses in front of you please remember that the person on that horse is probably just as hardworking as you, on just as tight a schedule and could be the person who serves you at the supermarket, or looks after you elderly relative for a pittance to afford a sport we love! We are only asking that we can be safe and not have our lives put in danger because people are too busy to slow down or have stereotyped horse riders as 'Hooray Henry's'. We have a right to use the roads, but more so, we have a right to be safe and so do our horses!
Leave a comment