323 comments Add a comment
I was reading the gripe about horse manure on the road and I thought it would be an excellent opportunity to bring up something that has been irritating me for the last couple of weeks. Yes, I'm afraid it's another horse manure story and this time it's not on the road.
I travel to and from a nearby village which is about a three mile round trip and I do this around two to three times a week taking my stepdaughter to school. It's not that far and as I don't have car I tend to either cycle or walk. It's a pretty busy road so I wasn't surprised when I saw a horse and rider on the other side of the road, not actually on the road but riding along the footpath. Probably a very sensible thing to do because there are a few sharp bends and the traffic tends to be steady and fast.
Anyway, a few days later I'm cycling along this path (again, the sensible thing for a cyclist to do as the road is manic) and I turned a corner to run into a whole load of horse manure. There was piles of the stuff, some quite large and it was generally spread up the hill for about a hundred yards. I'm sure it didn't all come from one animal because there was a lot o it. My pop would have had a field day (literally) because he used to keep a bin full of manure in the garden for the veggie patch.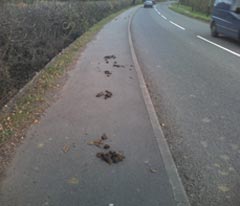 Now I know this stuff washes away (eventually) and it's not the most harmful substance in the world, but it doesn't half make a mess of things and it doesn't smell too great either. Well why didn't you avoid it? I hear you say Well I would if I could, but it was more than one small pile and it wasn't easy to dodge. As it happens we had to travel on foot for a few days recently (bike had a puncture) and it was quite challenging to keep the little one from stepping in piles of horse manure. It was starting to get dark around then too which didn't help matters, plus a couple of rain showers and a hoard of school kids walking that way had spread it around even more.
Not suggesting banning horses, fining the riders or forcing them onto the road (definitely not around there anyway!). But I think in this instance making the effort to pick up your horse manure would be a nice thing to do for the rest of us pedestrians and cyclists who also use the path. It's one thing on the road, but on the pavement it's quite inconvenient.
Perhaps stopping by on the way back from the stables with a shovel and a few bin liners perhaps?
By: Alexander
Leave a comment