66 comments Add a comment
In view of the recent suggestion that I should have a point on my licence for dropping litter from my car window, which I agree is anti social and something that I would never condone, why is it that a blind eye is turned to the mountains of horse manure that is dropped (usually outside my drive) every day on our roads?
We are expected to slow down,give a wide berth and generally give way to these creatures and there riders, which strangely enough are usually always women (what is it with women and horses?).
If we do not (and I usually do by the way), you can fully expect to incur the wrath of the rider and the horse because they both give you a filthy look for not perceiving that they were around the next blind bend in the road.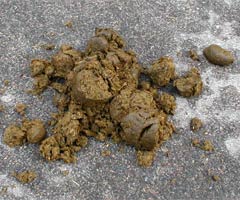 Anyway, I've carefully made my way home only to find right outside my drive is yet another pile of horse manure which I will have to move before someone walks it onto the hall carpet - this of course would obviously be my fault!
I have suggested to one or two of these riders that they should perhaps carry a shovel and a bag to collect the horse manure and take it back to the stables with them. But this is a apparently too daft an idea to contemplate because once out of the saddle they cant get back on without assistance, and besides they are not charging me for the manure so I really should be grateful.
Still, I suppose they don't have many horses in Downing street nowadays, so they're unlikely to really appreciate a horse manure problem are they? Would anyone care to buy some some horse manure? I've got plenty here and will probably receive yet another load tomorrow!
By: Len
Leave a comment